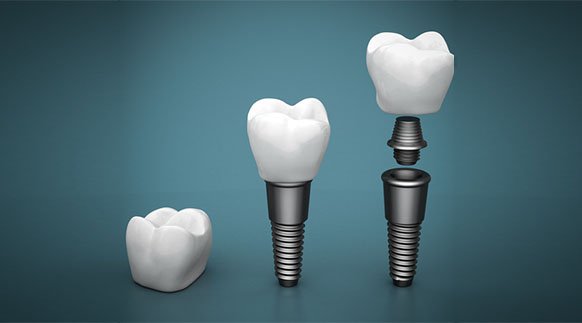 For the permanent replacement of missing teeth, Dr Nishant offers patients an incredibly effective and natural-looking solution.
By choosing dental implants in replacing missing teeth, you can restore your dental health by correcting your bite and protecting the integrity of your jawbone and adjacent teeth.
Dental implants offered by Dr Nishant are efficient replacements for a tooth's root.
They are surgically placed into the jawbone and hold dental crowns or false teeth in place, in the same way, that roots support your natural teeth.
Tooth Loss: Is It Really A Problem?
There are several causes of tooth loss, such as tooth decay, periodontal disease, bite problems, fractured roots, and trauma-related accidents.
When you lose your teeth, the bone surrounding and supporting the tooth root deteriorates and wears away from lack of use.
If you lose a tooth at the front of your mouth, there can be a visible defect in the bone that may be difficult to hide and will significantly affect the appearance of your smile.
Missing teeth at the back of your mouth will result to the collapse of your bite and may affect your ability to chew and eat your favourite foods, the overall appearance of your face, and the stability and health of the remaining teeth.
Complete tooth loss will lead to the deterioration of your jawbones over time, more problems chewing and eating your favourite foods, and esthetic facial structural collapse.
Dental Implants in Warrnambool: The Way To A Better Smile
Dental implants replace the missing tooth root and preserve the remaining bone by stimulating the bone cells to remain after the natural tooth root is extracted.
There are several benefits to opting for dental implants over other conventional methods for replacing missing teeth.
Dental implants maintain the integrity of your facial structures by preserving your bone as they eliminate the need to reduce healthy tooth structure, the way you would when creating a fixed bridge.
They also eliminate the pain associated with poorly fitted partial and full dentures. Dental implants make it easy to eat foods you would not be able to chew and eat with dentures.
Dental implants make it possible to smile again with confidence. With dental implants, the overall quality of life is enhanced.
Frequently Asked Questions for Dental Implants
Your Title Goes Here
Your content goes here. Edit or remove this text inline or in the module Content settings. You can also style every aspect of this content in the module Design settings and even apply custom CSS to this text in the module Advanced settings.
What is the importance of dental implants?
Improve your appearance. It is fitted to your jawbone, making your smile look better.
Improve your speech. Compared to when you have missing teeth, speaking becomes easier and more audible.
Helps to eat easier. You can chew whatever you like and allows you to eat your favourite food.
Improve your self-esteem. Dental implants feel like your own teeth. You can confidently smile again.
Durability. Dental implants can last for many years, and with good care, it will last for a lifetime.
Who is suitable for dental implants?
Anyone who has lost a tooth and has sufficient jawbone is qualified for a dental implant procedure.
How long will it take to recover from dental implant surgery?
After the procedure, it usually takes six months to fully heal.